Spin Rewriter Software Review 2017
If you've read my article on Tips for Effective Content Writing, you may have popped over to this review on Spin Rewriter, either for a sticky beak, or just to get an idea on how quickly you can improve your content writing for your websites.
You may have just searched on ways to cut your time down for checking your content after you've written them, and found yourself here. We all know time is precious these days so why not read my review for Spin Rewriter, the most popular product of this type in this multi-million dollar market.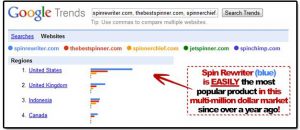 Name: 

Spin Rewiter
Website: www.spinrewiter.com
Price: Free 5 day Trial or $47 a month (nobody does this) or Year Promotion Special Deal (which is
phenomenally crazy see below) or $497 Lifetime License

Owners: Aaron Sustar
Overall Rank: 9/10
Spin Rewiter Overview…
Spin Rewriter is a web based article spinning software that many content writers, bloggers used to help re-structure, organise and correct their articles and post on their websites. By using Spin Rewiter your content can get a better sentence structure, meaning extraction, synonym selection, just to name a few great features, and give your article a unique and readable experience for your visitors and readers.
The Good:
Beginner friendly

Trial option for 5 days

Affordable package

Professional team behind the product

Time tested products with many testimonials

Been around a long time (since 2011)

Emulated Natural Language (ENL) feature

(I've highlighted this because it is unique)

Fetch videos and images to add to content

Post rewritten articles directly to WordPress website from Spin Rewiter dashboard

No downloading necessary, access Spin Writer from your browser

Numerous article spinning features

Guides and tutorials

Updating Versions all the time with improvements

30 Day money back guarantee if you are not satisfied
These are just some…
The Bad:
Some say the life time license is too expensive but I think it's the right price for the right person
Not much else after that…
Who is Spin Rewriter For?
Spin Rewriter software is great for all people that wish to write and share articles and information through their online business and really, any industry. People like: Article writers, E book Authors, Bloggers, Business owners, small or large, that may need forms of literature that's required for their business type, NON-English speakers, just to help set their articles up correctly so they have a good chance to communicate with the English-speaking/reading potential customers and SEO experts. I'm sure there are more.
For beginners the software can re-generate what you write and uses the unique ENL feature that corrects your phrases into a Natural way of Language Understanding, so that the article or post presents professionally and uniquely. You end up getting a better understanding of what the SEO's are looking for to deliver to the web searchers as you use the software time after time again, helping you to develop your writing and word skills after each use.
For bloggers that have been in the industry for a while the Spin Rewiter software can cut down time for checking and re-checking when you're in a hurry to get your content out into the market place. The software can generate many spins on your article until you find the right one you like and decide to publish.
Spin Rewiter Tools & Training
Aaron has put in place a collection of 10 detailed video tutorials giving you step by step instructions on how to use each feature. Each video takes you through the process of putting your content through the software and you can use these over and over until you become a pro and just whiz through.
Here's the list…
How to enable ENL Semantic Spinning option on Spin Rewriter

How to spin multiple articles at once

How to spin articles manually

How to use the "I'm feeling lucky" option?

"One-click rewrite" vs. "I'm feeling lucky" settings

"One-click rewrite" settings

Drafts and archives

Settings and export functions

Changing articles once they are finalised

Spinning articles that are already spun
If you don't like learning through videos you can also read the instructions that you find on the "Get Started Page".
They are very easy to follow and when you produce your articles you can find them in your "Archive of Your Articles" section on the menu on the right.
Spin Rewriter Support
A lot of questions you may have on the Spin Rewriter function may have been answered in the Frequently Asked Questions page, packed with helpful information but if you still can't find what you're looking for, then just contact the Support Department or click on the Live Support and someone from the team will help you out.
Spin Rewriter Price
Spin Rewriter has 3 payment memberships.
1…. $47 a month recurring…this is what you get:
Unlimited Articles

ENL Spinning Algorithm

Bulk Spinning and Mass Export

Sentence and Paragraph Level
Not many people go for this option at all as you will see below next
2…. Yearly…normally $197 but a huge 60% discount for $77 and with a whole heap of bonuses to boot…

When you go to the sign up page you get 5 days for free before you even part with your $77. If you don't like what you see you can cancel before the 5 days or just ask for a refund within the 30 days guaranteed no questions asked.

You get the same as a monthly subscription for a HEAVILY DISCOUNTED PRICE of $77…Most people sign up with this. (Why would you go monthly if you can get this incredible deal?)
3….Life Time License $497 single payment…you get:
Same as a monthly or yearly subscription. If you don't like going through the phases of paying every month or yearly and having to change the payment details when the time occurs, Or, you might just fall in love with what Spin Rewriter has done for you and just want it for life, then this option is for you.

My Final Thoughts on Spin Rewriter Software
Spin Rewriter can set your content up beautifully by spinning words, sentences and even paragraphs in little time, but of course you still might want to re spin until you find what you like and decide what to publish. It is not a be all and end all solution for your article writing but can surely point you into the right direction to construct or re-structure your article into readable unique material that your visitors and readers deserve, giving an opportunity to get more sales or just delightful comments.
I highly recommend signing up to get the 5 free days trial, with bonuses, and even give the software a good thorough running within the first 30 days. Why not join the hundreds of thousands of people that are using Spin Rewriter and get your website ahead of the rest out there in internet land. If you don't like it, just opt out and get your refund. At least you would've tried the Best Spin Rewriter in the market place.
Here's just one testimonial from a happy member. There are many more… 

Spin Rewrite at a Glance…
Website: www.spinrewiter.com
Price: Free 5 day Trial or $47 a month (nobody does this) or $77 Year Promotion Special Deal (which is phenomenally crazy, normally $197) or $497 Life Time License
Owners: Aaron Sustar
Overall Rank: 9/10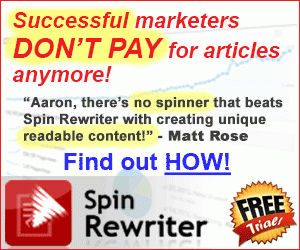 VERDICT:  A must tool for the serious writer!
Get your writing into perfection and sign up to Spin Rewriter
You will join many others that are creating quality content.
You too can have the best tool in the market place.
Just a little point, if you're new to the affiliate marketing business and would like to join the many thousands of people that are doing this for a living or part-time income, you will need a website to start so read my post on where and how to get going with step by step training, guidance and make sure you get off on the right foot. Click Here…
Feel free to leave a comment if my review was helpful to you.
John