JVNotify-Pro – An Online Market Place Review
I'm sure you've wondered how and where you can find those great affiliate programs that the super affiliate marketers get to make those big commissions. Well I want to give you a review of JVNotify-Pro, an online market meeting place where these guys hang out.
Name: JVNotify-Pro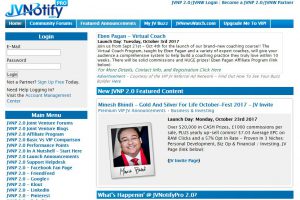 Website: www.jvnotifypro.com
Price: Free or $47
Owners: Mike Merz
Overall Rank: 9/10
JVNotify-Pro Overview
JVNotify is a website with a large community of networking people where product owners seek to work with affiliate marketers for launching their products onto and into the World Wide Web. They call the process JOINT VENTURE MARKETING.


The Good:
Forums on Joint Ventures

Blogs for Joint Ventures

Marketing Articles and Discussion on Joint Venture

Free Membership and VIP Membership if you to go to the next level

Been in business since 2005
The Bad:
None that I could see. People only speak highly of JVNotify-Pro
Who is JVNotify-Pro For?
JVNotify-Pro is beneficial for practically all partners in the online money making business. Product developers looking for affiliate marketers to sell their products, Marketers looking for great products to sell to their customers and followers, product buyers just looking for a great product to use and add to their everyday needs.
JVNotify-Pro Tools & Training
Not only is JVN-P a market place for members to connect and discuss new joint venture product launches, it also a platform where new affiliates can learn how to effectively get into the industry and become successful marketers. The top marketers in all fields are displayed to help inspire and encourage others. The forum is filled with experienced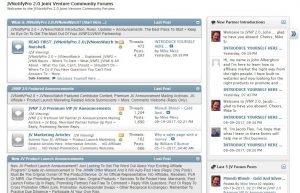 marketers who are willing to lend a hand when you need it.
JVNotify-Pro Support
Support is provided in the help or support section and you just need to submit a ticket and a member of the support team will contact you. In the forum, marketers experienced or not, are willing to lend a hand when you need it. The forum is packed with information to guide affiliate markets with topics like, ways to connect with internet marketing authorities, tips for better sales copies, email marketing tips and many more. Just click on the threads, read and ask and someone will help you.
JVNotify-Pro Price
You can sign up for free and use the platform as a free member as long as you want or you can pay $47 monthly and get the VIP Benefits. The free version allows performing basic activities while the VIP membership operations help boost your revenue earning potential.
I am a free member and enjoying what JVNotify has to offer for me but by subscribing to the VIP plan you will gain an advantage over the free member and as a VIP your article or review of a product may appear on the JVNotify home page allowing you to gain traffic and sales as a feature page.
You can even promote JVN-P as an affiliate product. You can sign up for free and if you feel being a VIP is better, you can pay for your membership with your affiliate earning. Click below to check it out.

My Final Opinion of JVNotify-Pro
The website platform provided by Mike Merz is a fantastic concept; bring together like-minded people with the same focus for all. The many affiliate programs available for the marketers to promote just keep growing. You can participate in an original launch of products developed by the owners or there are many already launched products that you can review and rate to increase you traffic and sales to your own site. That's why I have given JVNotify a 9/10.
JVNotify-Pro at a Glance…
Website: www.jvnotifypro.com
Price: Free or $47
Owner: Mike Merz
My Overall Rank: 9/10
VERDICT:  Great place to get involved
Do Yourself, And Your Business, A Favor And Join JVNotify-Pro
You'll Be In Good Company (I'm A JVNP Partner, Too!).
Join the market place where the top affiliate marketers hang out and get into your first big ticket JOINT VENTURE NOW.
Visit The Page Below For Details + No Cost Registration:
Just a little point, if you're new to the affiliate marketing business and would like to join the many thousands of people that are doing this for a living or part-time income, you will need a website to start so read my post on where and how to get going and make sure you get off on the right foot. Click Here…
Feel free to leave a comment and happy affiliate marketing.
John