Mingle Cash Review- Earning A Passive Income Online

I have just come across Mingle Cash and thought I would post a review with my thoughts and how it works and how anyone can create a passive income by just doing what they do when they are online anyway.
Here is what one member posted on Face Book recently "I've been involved with Mingle Cash for 5 days now and I now have 29 Affiliates and 3 have the extension. I have investigated scams and also systems that may harm your computer. After the first 2 days of diagnostics, the Mingle Cash system is legitimate. The only things I have used right now to build my team is Bing Ad Words and Face Book. I am looking forward to how my team will grow when I really apply more of the features in the teaching guide."
Sounds interesting right? Well see my review below and then decide for yourself.
Name: Mingle Cash
Website: www.minglecash.com
Price: Free  Forever, just sign up
Owners: Andrew Gitt
Overall Rank: 9/10
Mingle Cash Overview
Mingle Cash is a website where you are able to join for free and by building your down line  you will be rewarded as your down line members close ads that appear as Pop Under Ads as they surf the net. As your down line grows, so does your earnings. It is a MLM (Muliti Level Marketing) business but it is not a pyramid scheme as there is no investment needed. 
The Good:
Free to sign up

Easy to follow short training videos on how to get referrals

No need to click on ads, just close them

Ads are Pop Under Ads not Pop Up Ads so won't interfere your web surfing 

Payouts automatically in 10 days when you reach $2.00

Minimum time commitment after getting started
The Bad:
Slow to get started

Only works with Google Chrome Extension and Firefox at the moment
Who is Mingle Cash For?
The beauty of Mingle Cash is that everyone and anyone can join. Lets face it, nearly everyone has an internet connection these days and everyone surfs the net. With Mingle Cash you can surf or when you use the internet for your work you can also earn a passive income without any effort. Once you get it set up and introduce only 5 people, then everyday you start your computer you can let Mingle Cash do it's thing and you will earn easily.
How does Mingle Cash Work?
Mingle Cash is a revolutionary browser extension that will turn your PC into your very own personal ATM machine. Users simply install the Mingle Cash browser extension which allow pop-under ads to appear every few minutes. You, the user, then just closes the ads and the ad numbers are calculated in your Mingle Cash Stats page.
Mingle Cash receives income from these ads and the revenue is shared with you. All you have to do is share your unique affiliate link with others who in turn sign up and install the extension. For each person who signs up under you and installs the extension which allows the ads to run, you will earn a percentage of the revenue that Mingle Cash is receiving.
But it gets a lot better than that! Mingle Cash has a unique 10-level payout structure. So you earn not only on your first level down line of referrals, but ALSO on your 10-level down line! The percentage of your share of this revenue is determined by the number of pop-under ads you view. The percentage you earn ranges from 1.25% to 5%, however, it's very easy to reach the 5% level each day. You will be paid for the LIFETIME of your entire down line of referrals!
Pop Under Ads…
Pop-under ads appear by a certain frequency. Every 3-10 minutes that you spend online, Mingle Cash displays a pop-under ad below your browser window. This ad is non-intrusive and in fact, you won't even be able to see the ad until you minimise or close your browser window. The pop refreshes every 3-10 minutes as long as you keep visiting different web pages. If you are static online for an extended period of time (ie. watching a video, playing a web based game, or just reading a really intense article) the ad will not refresh. But as long as you keep browsing, the pops will continue to refresh if at least 3-10 minutes has passed between the ads.
In order to be eligible to earn revenue for the day you must "view" a minimum of 10 ads. If you "view" 10 pop-under ads per day you will earn 1.25% of the money from everybody in your down line that views ads. If you "view" 20 pop-under ads day, you will receive your first raise and be earning 2.5% of the money from everybody in your down line that views ads and will continue all the way up to 5%.  You must view ads and so must your down line members to earn. It's not that hard really. See chart below.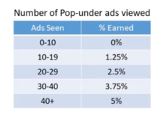 Payments…
Payments are made via PayPal and Payza. Once your account earns $2.00 or more you will get paid and all users are paid every 10 days. For those of you who want to be paid with Bitcoins, Payza has such an option that you can convert your money into Bitcoins and have the money transferred to your Bitcoin wallet.
Mingle Cash Tools & Training
Not only is Mingle Cash a simple business model  but there are 7 short easy videos to follow on how to set up your membership and then 24 training manuals to follow that will teach you how to build your down line.
The manual explains for how to share your referral link on social media to how to use the ready made email swipes for email marketing. A very comprehensive and well though out processes to follow.
Mingle Cash Support
Support is provided in the help or support section and you can contact by live chat, face book messenger and even Skype. The support team generally responds quickly with any question. 
My Final Opinion of Mingle Cash
The Mingle Cash business model is simple and easy for anyone to use. Once set up and you introduce 5 down line members the potential earning are phenomenal. The payouts are every 10 days and it isn't rocket science to get started and start earning. Everyone surfs the web nearly every day so why not get paid while you do it.
Andrew Gitt and his team have put a great idea together and made available for people to earn a passive income just by downloading an extension to their Google Chrome. Then by simply closing pop under ads that don't interfere with everyday internet work or simply surfing the net as we all do at times, people can earn easily.
The website platform is easy to navigate and the short training videos can get you on your way quickly. I think this is the simplest and easiest way to earn online that I have ever seen.
I have given Mingle Cash a 9/10.
Mingle Cash at a Glance…
Website: www.minglecash.com
Price: Free
Owner: Andrew Gitt
My Overall Rank: 9/10
VERDICT:  Great place to get involved…
I hope you take the chance and give Mingle Cash ago…John