5 Affiliate Marketing Scams To Be Aware Of
The industry of affiliate marketing is only going to grow and grow. More and more people are using new technology to do their buying on the internet whether it be through computers, iPad, or phones. The spending online is growing at a phenomenal rate and will continue to grow for years to come. With all these customers online the opportunity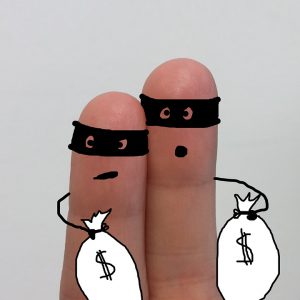 for affiliate marketing comes to the fore even more, so naturally people wanting to get into affiliate marketing will be searching for market training programs, software help, general guidance and training to learn to get into this industry.
The list of legitimate companies, brands and people within the affiliate marketing area are endless but unfortunately the list of affiliate marketing scammers are even longer. Of course that is the way of the World and we just have to be aware of these unscrupulous vendors.
Following are five ways that affiliate marketers use to trap people into handing over more of their hard-earned cash.
1. Funnel Upselling
Upselling or upsells is when once a customer signs up to the program the marketer pushes further programs or training/lessons to get to the end of the course and to becoming an affiliate marketer. It can be compared to when you are being served at a fast food venue and the service attendee asks if you would like an upgrade to your meal. It feels like you are not getting the full package unless you just keep spending more and more money. The upsells can come in different forms like "another program to do this and that" an upsell "to get website/hosting" an upsell "for a special tool you need to make it easier" and an upsell "to get support and further help".
In my humble opinion all of these extras should just be included in the whole package or at least you should be notified about the extras before you make the initial sign up. Don't get me wrong, the product could be a real good one but I believe you should know the facts from the start.
The upsell technique is a most common affiliate marketing practice and they are everywhere on the internet. Try to avoid these types of programs by researching the program first and if you do sign up to a program the first thing to do is test out if there are any upsells and then you can normally ask for refund within the first 30 days or whatever the program conditions are. But research is better firstly.
2. Quick Rich Offers
There are marketers out there that promise you can make thousands of dollars in a very short time, even some that say overnight or work very little hours a day and thousands of dollars will turn up in your bank account. Believe it at your peril.     
There are many of these so called secret systems and strategies out there all over the internet. Keep away from them and don't waste your money and time. Real affiliate marketing takes time to learn. Reality is, you will make money from it, but it will take time. Build a base on your website with good engaging content and over time with good strategies from legitimate learning programs, you will make it.
3. Selling You Information To Other Marketers
What does this mean? Something like this. You end up buying a product from a company or person, the next thing you start getting emails or contacted by some other company or companies offering other deals or opportunities.
These are other companies that say they are connected to the company that you purchased the original product from and they want to offer you a bonus or special offer because you are a customer with a 5 star rating. They use these kind of marketing techniques to suck you in.
Beware! You original purchase company has just sold your information onto another selling marketer and trying to earn a nice commission for your lead. If you get these the best thing is to click unsubscribe or hang up the phone if they call you.   
4. No Product or Service To Sell
Programs on the internet that claim to be affiliate marketing businesses that are actually promoting the very same product without any recognisable services involved are probably scams.
They could be "pyramid like" and as the MLM World heads into the affiliate marketing area they are trying very hard
to dress their opportunities up as legitimate services. These pyramid structures are made to make the original founders and the first few people that get in wealthy with all the following people losing their money forever. It's the only way the scheme can work. There has to be and will be losers.
If you do join a business like this type of scheme then you are also going to be scamming your customers, which could be friends or family, and then lose all credibility for when you finally find the right product to promote.
Again before signing up to any programs do your research and Google is your friend here to find out.
5. High Priced Programs
The Idea of these types of programs is to sell less of a product for a very high price and then you only need to sell to a few people to make money. This doesn't necessarily make it a scam but you could be paying more for something that you can get for a much lower cost price. You want to get value for money and just because you paid more money for the program it doesn't mean it is better than a reasonably priced one. It has a perceived higher value because you have paid a higher price.
You will see some of these programs marketed as:
Training Courses

Mentoring Courses

Conferences or Summits

Elite Training

Mastermind Seminars
I once went to a Stock Trading seminar which was very good until they asked everyone if they really wanted to go to the next level and succeed that we had to go into the next room attached. When we got there they were offering 5 spots for full on further training for $20,000. Yes, that's right, $20,000. You got a bottle of Champagne and got to keep the beautiful pen that you used to sign up on. 5 people $100,000. Not bad. When I saw this type of marketing I realised that these guys weren't really interested in training their normal subscribers so I just left. Oh and just to let you know, I got the same training for less than $500 and that is another way I make money online. But that's for another time.
Never believe that just because you can pay a lot of money for something that it is of a much higher value in the affiliate marketing industry. Chances are you are paying for information for this industry that you can get for much better costing.
These are five common ways that affiliate marketing scammers use to get your money so just be careful when searching for affiliate marketing training programs.
So where do we go from here?
By doing your due diligence, there are many good affiliate training courses that offer great value and great teaching lessons to get you into this industry. There are companies that really care that their customers learn ethical, legitimate correct ways to become great affiliate marketers and genuinely help them earn money in the industry. These companies have great track records with hundreds and thousands of reviews and recommendations from many satisfied customers.
As well as legitimate training courses, there are many great affiliate market place networks. These include companies like Amazon Associates, EBay affiliate, Sharesale.com, Avangate.com and Clickbank. These are just a few but there are many great affiliate networks out in internet land with high quality products to promote and earn good commissions.
There is one particular affiliate training course that I can highly recommend and that I am a member of. Wealthy Affiliate is a well-established company and well-known amongst affiliate marketers. The owners Kyle and Carson have been helping people to start, build and progress to become successful affiliate marketers like me. The training program that they have developed and run has been used by over 800,000 members and counting.
You can sign up for free to see what they have to offer, trial out some tools and then if you decide to become a member you are able to use every tool available to get you to become a successful affiliate marketer. No upsells or absorbent high priced training.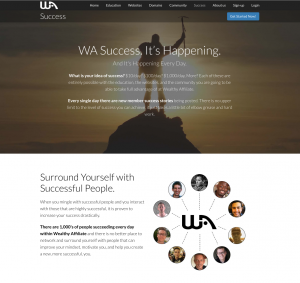 Legitimate training tools, training, websites, hosting, networking and their top rated community based support. That's right every person that becomes a member helps every new member learn and grow into an affiliate marketer. I have never seen anything as good as this. Even Kyle and Carson, the owners get personally involved to help any of the members and all for the one membership price all included.
But as I say to everyone that asks me about my affiliate marketing business, don't believe me, go and see for yourself and sign up for free. If you like what you see and want to join the internet sensation of making money online then become a member. I will be there to help you join all the other successful people.
Anyway, even though the affiliate marketing industry is filled with scams and scammers there are many programs out there that can help you and your business. Wealthy Affiliate is just one of them.
The internet has given the opportunity for everyday people to break into this space and will only continue to grow in the future. You can promote millions of products within any niche that you decide on.
So if this article has perked your interest or you find a program that you're not sure is a scam, contact me and I will take a look for you and let you know my thoughts. Feel free to leave a comment or sign up for free on Wealthy Affiliate and connect up with me there as well.
All the best John.