How To Open Your Own BitCoin Wallet…
I guess you may have already heard of the bitcoin sensation and you are on my article to learn how to open a Bitcoin Wallet and join the many millions that are already enjoying the benefits of the Crypto Currency industry.
I have two wallets of my own and I will show you how to open your own wallet with Coin Base and Coin Spot. Both are relatively easy to open and operate and I am sure that once you familiarise yourself with the easy functions you will show and teach others how to use them. 
These are quite well known in the world but be all means not the only wallets in the world and I insist that it is better to find a Bitcoin Wallet that is acceptable in your country of citizenship, as some wallets will not allow you to transfer funds back into your bank account should you chose to do so.
Many wallet companies allow you to deposit funds but some governments do not allow withdrawals from certain wallets because of possible illegal activities by certain members of the said wallet.
Just do your research by searching bitcoin wallets "your country" to find the right one for you.
Even in my case, as an Australian, Coin Base does not allow funds withdrawal into a bank account in Australia at the moment. I can deposit funds easily by Credit Card or by my bank details only, but I can send Bitcoins from Coin Base Wallet to my Coin Spot Wallet Exchange and then sell these BTC into funds and then transfer these funds into my bank account in Australia.
With Coin Spot I can deposit funds from my bank account and withdraw funds easily and I can also purchase bitcoins and other crypto coins on my Coin Spot Platform. I can also send these coins to other peoples wallets easily anywhere in the world with just a few clicks of my mouse.
Opening a Bitcoin Wallet…
Opening a Bitcoin wallet is just like opening a bank account or share trading account.
You will need to provide identifying proof documentation showing your residency address such as
Drivers Licence,

Pass Port,

ID Card
and also documents such as 
Bank Statements with your address

Credit Card Statements

Utility Bills

or others requested
All wallet companies require basically the same information described above and if you find a wallet that DOES NOT have stringent requirements then just beware or avoid them as they could be just front website companies that will steal your money and scam you.
Coin Spot actually request an up to date photo with a Coin Spot Verification Number with a short written statement by yourself showing that you are the same person as in your photo ID that you are using in the verification process.
Coin Spot even called my mobile while I was overseas and rejected my first application because I was overseas. I had to wait until I was back in Australia to go through the whole process again to be verified.
In my opinion, I think this is a good thing and gives me confidence in the security measures of the Coin Spot company. 
I will start with Coin Spot but skip and go directly to the Coin Base instructions further down the page.
Opening A Coin Spot Wallet…
For Australians I recommend Coin Spot for the reasons I have already mentioned above. 
CLICK HERE or the click the image below to go to the sign up page and fill in your details.

Once signed up you will receive an email from Coin Spot for verification and then you can proceed to verify your details as per instructions on the Verification page.
Just follow the instructions for each section starting with the
verification,
security and your
bank account details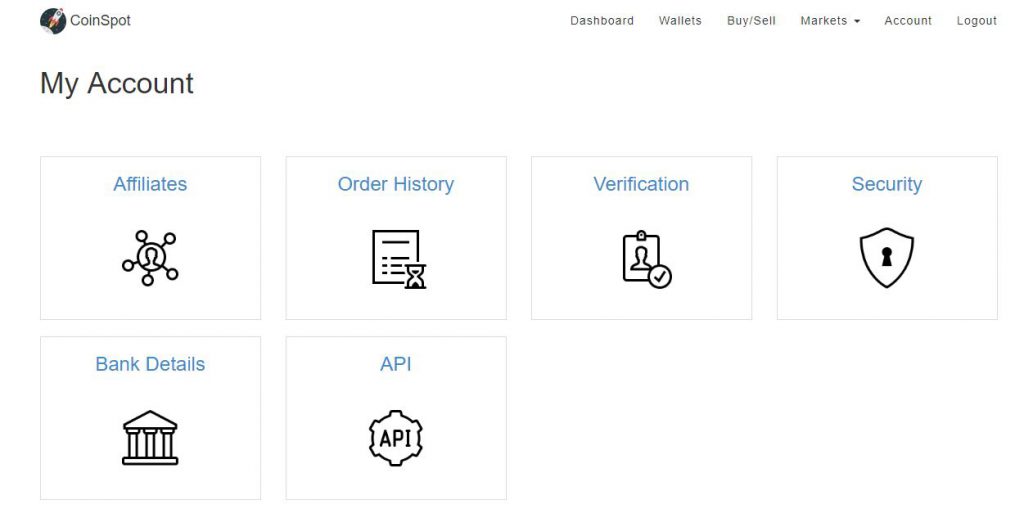 I strongly emphasis that you enable the Google 2FA (Two Factor Authentication) for extra security measure but you can also have a sms security code set up if you don't want to use the G 2FA.
Depositing into Coin Spot…
Once you have all your details verified, you will then be able to make a funds deposit into your Coin Spot Wallet Exchange. Yes you can use Coin Spot for buying and selling various Crypto Coins as a trading exchange. There will always be fees for transactions but this is the case with any coin wallet although the fees vary from each wallet exchange.
Depositing…
Click on DASHBOARD at 1
Click on BLUE DEPOSIT BUTTON 2 to commence the deposit process. image above
After clicking the Blue Deposit Button you will be taken to a page where you can select to deposit funds by either Cash or by Bpay. You will be given your own personal Bpay number details and register these numbers into your bank account. Tou will then be able to send funds by using the Bpay system. It may take a number of days for the funds to be deposited but you will receive a conformation email or sms from Coin Spot once the funds arrive. see image below
Buying Bitcoins or Other Coins…
There are a couple of ways to buy coins on Coin Spot but the simplest is to simply go to the Wallets Tab 4 at the top of your Platform and open any coin wallet that you wish to buy or sell, number 5. image below
This action will take you to a new page where you can decide to buy or sell the coins selected. image below
Number 6 is the BUY/SELL Action Buttons
Number 7 is my already Generated Bitcoin Address
Number 8 is for the function of SENDING your BTC to another persons wallet
Number 9 is where you add the G 2FA Verification Code
Number 10 is the Send Button
As I have currently $73 in my I will buy some BTC to show how it works, so I will click number 6 BUY see the next image after this one where I add details and confirm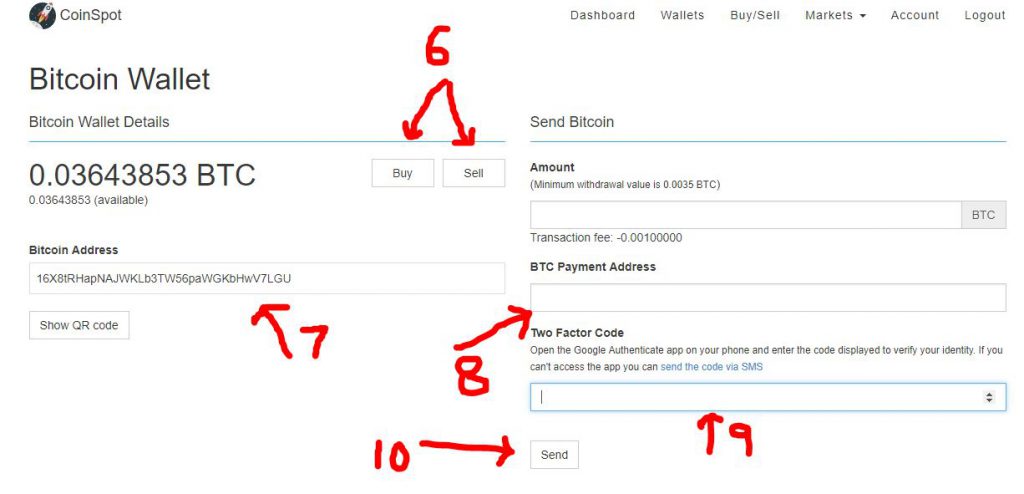 I have added $50 in the HOW MUCH BOX in AUD currency  number 11
Number 12 is the equivalent in BTC that I will receive
Number 13 is the current price for 1 BTC in AUD currency
Next I proceed and click the BLUE BUY BUTTON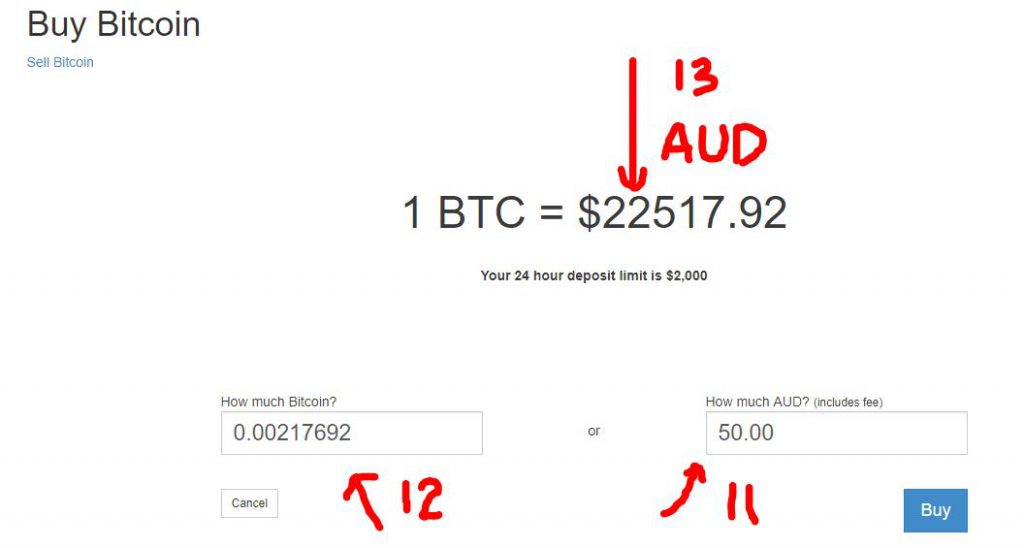 Once I click the Blue Buy Button another Pop Up appears with a BLUE CONFIRMATION BUY 14 to click for the transaction. image below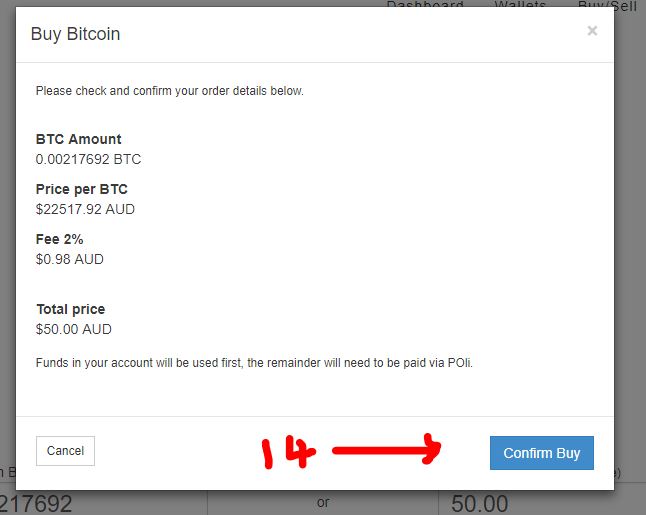 You will be taken back to a new page with a PURCHASE COMPLETE message with a prompt to go back to your Dashboard to see that your coins have arrived.
Selling your coins for funds is the same except you are selling instead of buying and you will receive funds back into your Coin Spot account showing just above the blue deposit button in your Dashboard.
Receiving Bitcoins from other Wallets…
This quite easy actually. Number 7 is your RECEIVING BITCOIN ADDRESS. this address is what you give or use to allow people to send to you BTC. I copy and paste this address into my Coin Base Platform SEND BOX to send BTC to my Coin Spot Wallet.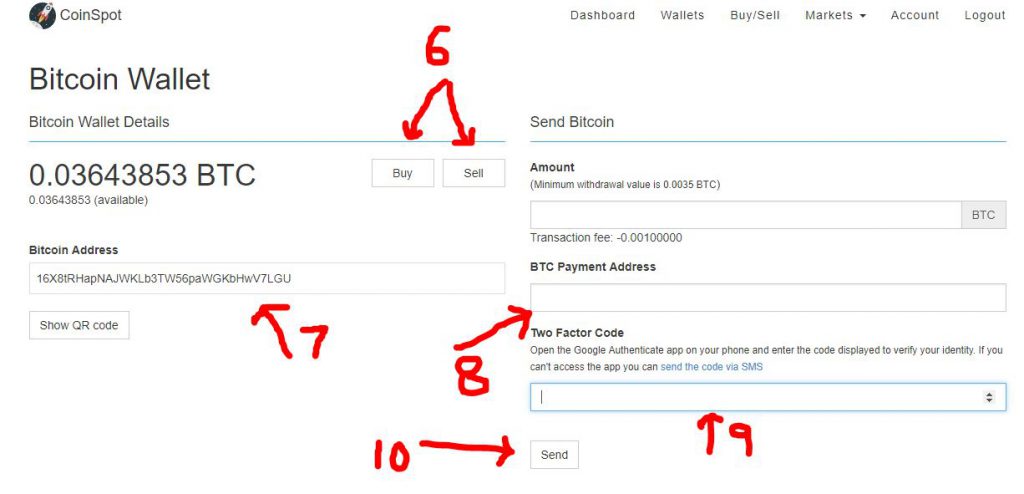 Sending Bitcoins to someone else's Wallet…
In the image above you will paste the others persons RECEIVE/PAYMENT WALLET ADDRESS in number 8. You then add the amount you wish to send/transfer in the box above 8, enter the verification code at 9 from your phone and then click SEND at 10. 
You will be taken to a new Pop Up for confirmation the same as when we purchased our BTC.
Withdrawing Funds back to your Bank Account…
I wont go through this process as I have my personal information within my account but the process is quite simple as just by clicking  the WITHDRAW at A you will be taken to page where you fill the details and amounts of what you wish to withdraw back into your account. All of your account details are there and you will need to conform as per usual. 
The withdrawn funds can take approximately 3 days to get deposited into your account as per what Coin Spot advises on their website.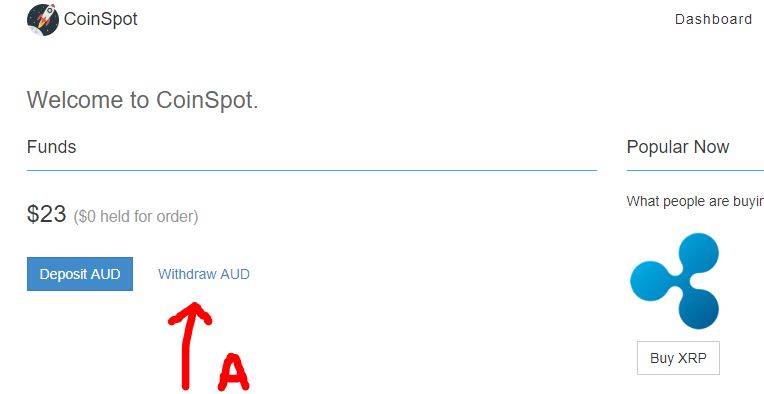 That's about it for Coin Spot… If you open up an account and have any problems you can give me a shout or contact the Coin Spot staff directly.
Opening A Coin Base Wallet…
As I mentioned above, Coin Base is a well known Bitcoin Wallet Exchange although, they are not allowed to operate in all countries. They are still regraded as a strong safe wallet and I can recommend them as I have found them acceptable for my needs. If you are able to use Coin Base Then I suggest to have them as one of your wallets for your journey in the Crypto Currency industry.
CLICK HERE or on the image below to sign up for your own Coin Base Wallet.

Once signed up you will receive an email from Coin Base for verification and then you can proceed to verify your details as per instructions on the Verification page.
Just follow the instructions for each section starting with the
verification,

security and your

bank account details
To go through the steps click on SETTINGS and then follow the steps as 1, 2, 3, 4 to get your wallet ready for participating in the crypto world.
Step number 3 is where you will link your payment/funds deposit to your Coin Base wallet. I have linked a Credit Card to my account

Depositing into Coin Base…
Once you have all your details verified, you will not need to deposit funds into your Coin Base wallet. You simply buy the coins with the funds from your linked account. In my case, my linked Credit Card. In Coin Base there is only 4 types Crypto Coins at the moment but they have announced that they will be adding more coins during this 2018 year.
There will always be fees for transactions but this is the case with any coin wallet although the fees vary from each wallet exchange.
Buying and Selling on Coin Base…
Click the BUY/SELL tab at letter A. You can click on any of the numbers 1, 2, 3, 4 to buy/sell any of the 4 choices. Number 5 are the action button for Buying and Selling
On the same form you will see details of your payment method,
number 6 is the dollar amount you wish to buy,
7 is the BTC amount,
8 is the currency the BTC are priced in, in my case AUD,
9 is the fee charges and
10 is the confirm button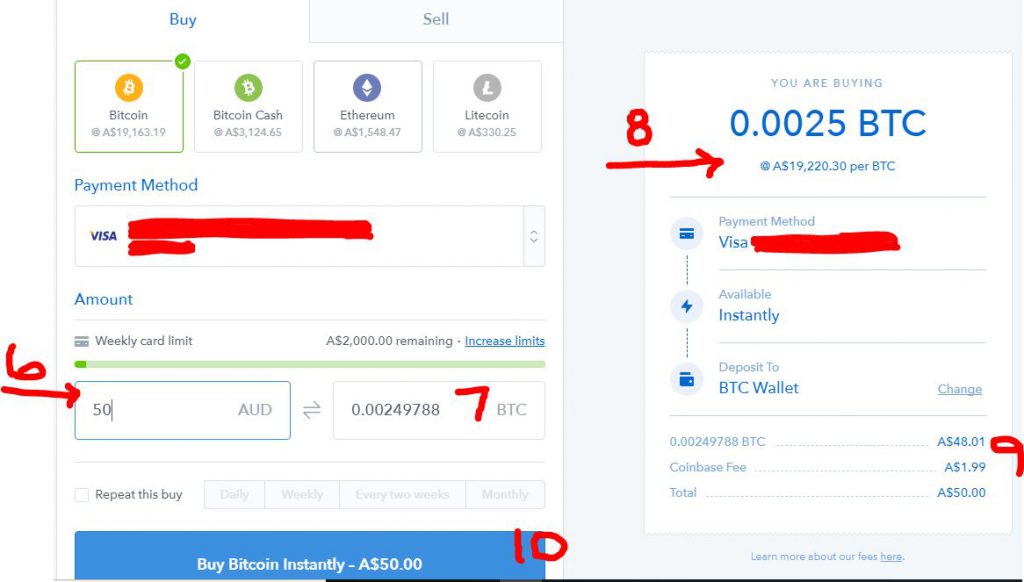 Once you click the Blue Button number 10, a Pop Up will appear for one more confirmation. image below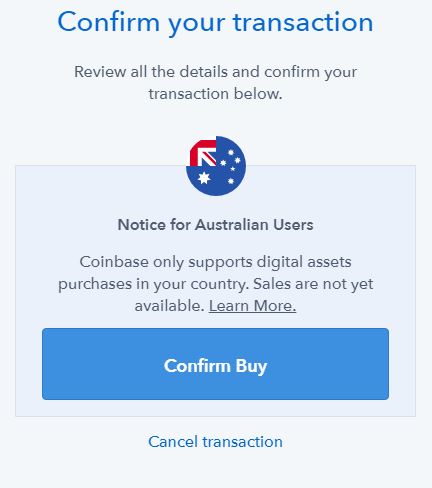 You will notice for Australians the we can only buy the coins and not sell them at the moment.
Receiving and Sending Bitcoins on Coin Base…
To Receive and Send your BTC click on
ACCOUNTS at number 11

number 12 is for RECEIVING BTC

number 13 is for SENDING BTC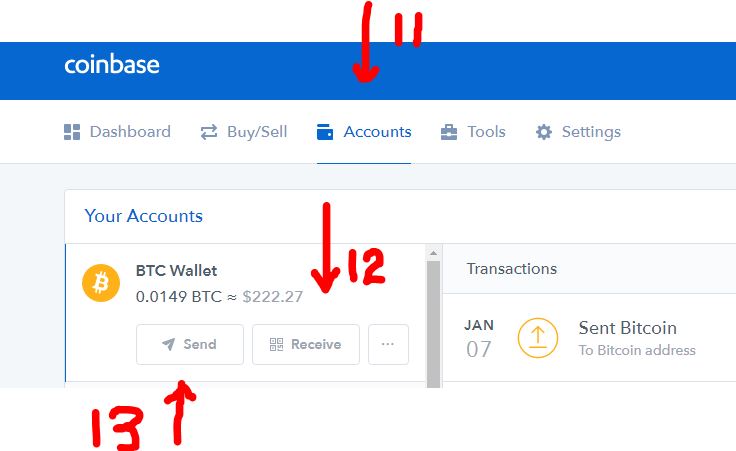 When you click on the number 12 Receive button a Pop Up message below will appear reminding you that you can only send BTC to this Wallet Address. Click confirm and then another Pop Up will appear with your RECEIVING ADDRESS number 14 in the next image below. You copy and paste or give this address to the person that you want to send you BTC,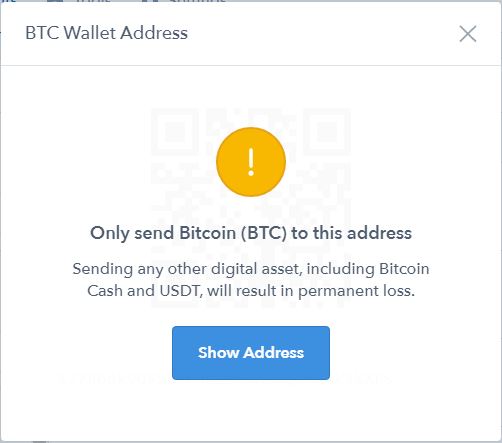 Sending your BTC…
Click on number 13 button shown in the image further above.
number 15 is where you paste the sending address
16 is the amount you wish to send
17 is note for yourself to keep. I always do this
18 is the continue button
After you click the CONTINUE button, a new Pop Up will appear where you will need to put in a confirmation code sent to your phone or the code from your G 2FA security. And then you confirm again. 
You will then get another Pop Up stating that the transaction has been action-ed. The transfer time will depend on how fast the Block Chain is moving and could happen within minutes, hours or a day. It also depends on how big the transaction is. Larger transaction may take longer.
The image below is your transaction statements and you can click on these to see where you sent your BTC from the comment note you filled out yourself when you made the transfer. 
Clicking on number 19 above image will open a Pop Up with details 
20 the send address
21 the number of confirmations
22, this button will open up a new web page showing all the block chain confirmations should you wish to check them out.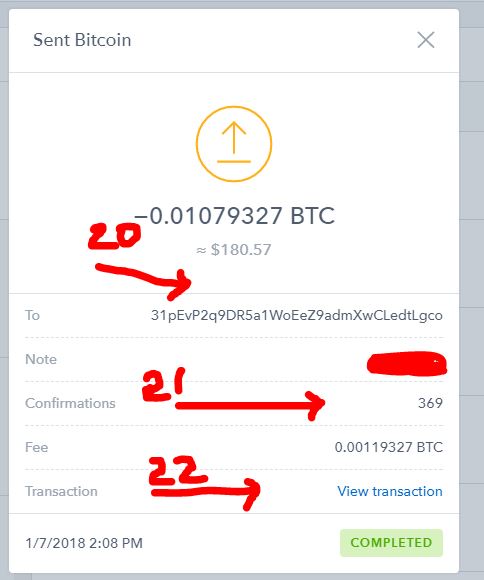 Summary…
These are the two wallets that I use and I am comfortable recommending. As I indicated earlier, I suggest you search for the right wallet for storing, buying, selling and even trading within your own country that accepts funds deposits and funds withdrawals. 
Do your research and ask friends that you may know that are already participating in the Crypto Currency industry as they would have already done the home work and help you save some time. 
Make sure that the verification process is stringent enough to satisfy your security needs and if it seems too easy then just beware and protect your interest and your money of course.
I hope my article and information was helpful to you and feel free to leave me a comment or question below.
Thanks for stopping by and best regards and luck to you.
John